Home > Milling > Gantry Type Machining Centers > OVER GANTRY > Speeder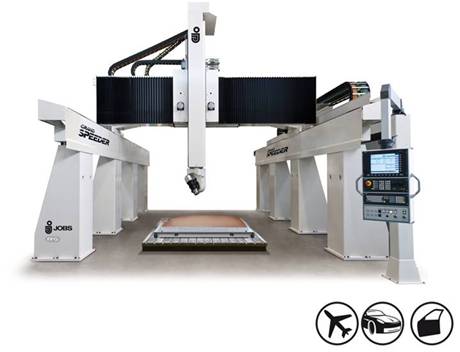 *Specifically conceived for composite machining.
*Large working volumes: Y-axis up to 5000 mm, Z-axis up
to 2500 mm.
*First-class dynamics: speed up to 60 m/min and acceleration
of 5 m/sec².
*Wet machining with waste sludge treatment system.
*Dry machining with efficient Jobs patented suction system.
Overhead gantry type milling center

Speeder

Grand Speeder

X-axis

3000

4500 – 6000 - 7500 +

Δ mm(Option)

3000

4500 – 6000 - 7500 +

Δ mm(Option)

Y-axis

2000 / 3000 / 5000 mm

3000 / 4000 / 5000 mm

Z-axis

1200 / 1500 / 2500 mm

1500 / 2000 / 2500 mm

Axes speed

up to 60000 mm/min

up to 50000 mm/min

Power

from 20 to 22 kW

from 20 to 22 kW